This project was supported in part by federal award number 21.027 awarded to Knox County by the U.S. Department of the Treasury and the Arts & Culture Alliance.
First Place
Jamie Matsuura
Hi, I'm Jamie, I was born and raised in Canada. I moved to the USA 10 years ago to attend college where I received my Bachelor of Arts in Graphic Design. In 2020 I made my home in Knoxville. Over the last 2 years I have quickly grown to love East Tennessee. I spend my days at home with my 3 kids, and try to fit in time to create and add beauty to the world. I love to learn, and try my hand at almost any creative process. As a graphic designer I have had the opportunity to work on a variety of projects including branding, layout, photography, bookbinding, letterpress and screen printing. I've really enjoyed the creative challenge of designing this poster. I took my inspiration from woodblock printing which originated in Ancient China. The imperfections and texture are reflective of this process, with colors inspired by mid-century Japanese prints. I consider this design a marriage of my Japanese heritage, my love of Knoxville and dreams of learning the art of woodblocking.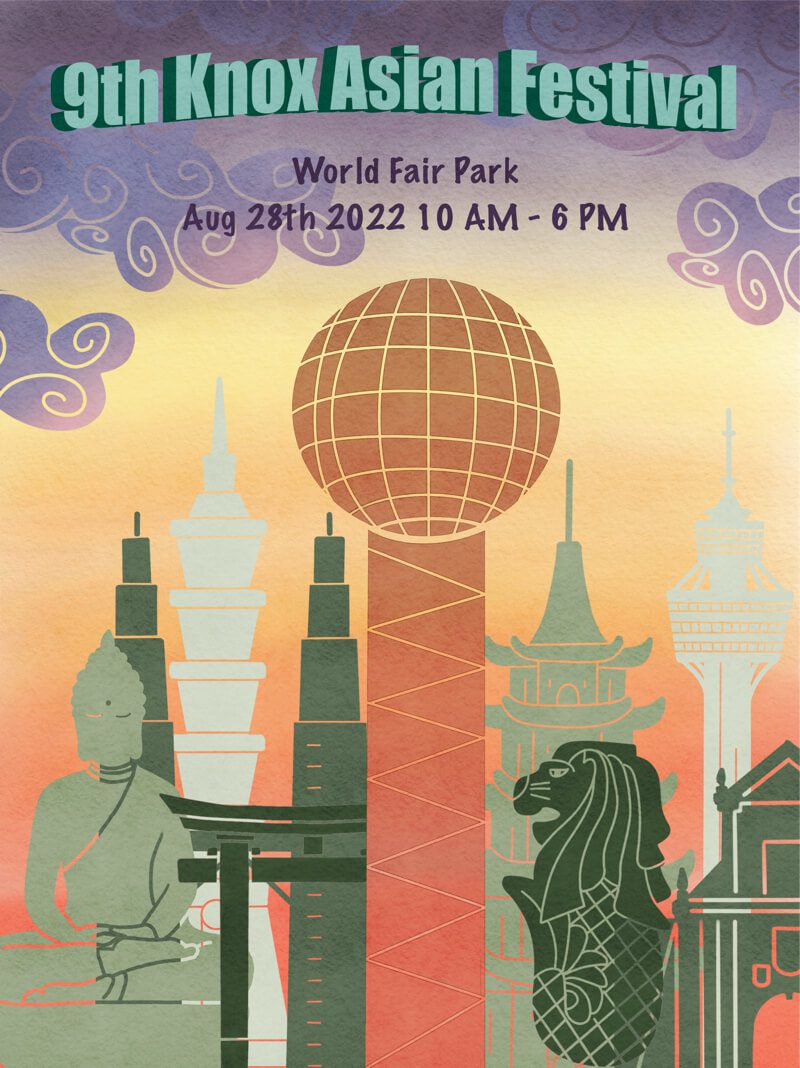 Second Place
Yi-Chen and Chiao-An Hsieh
We are Yi-Chen and Chiao-An, and we were born and raised in Taiwan. We have lived in Knoxville for almost 5 years. Our design concept combines all of famous buildings in Asia to make more people get to know them. Furthermore, in the middle of the poster, we draw the most prominent landmark, Sunsphere, to represent Knoxville. Welcome everyone to enjoy the 9th Knox Asian Festival with us!
Third Place
Maribel Frasure
Filipino, Visual Coordinator, De La Salle University, Manila, Philippines 1989-2004, Graphic Artist, Illustrator, Layout Designer, Proofreader at DLSU, Manila, Philippines, Carlos Palanca Memorial Awards for Literature Awardee 2007 (Essay Writing), 2001 Poet of the Year Awardee, Commission on Filipino Language, Philippines
Moria Magre
I teach painting classes and i have a lot of experience in fiber arts. Art is a passion for me and i saw this competition as a chance to just make something fun. If you look closely you can see that there is stitching in the background and foreground to give the piece extra definition.
Moria's Website
Andy Tanjaroon Ly
I'm originally from St. Petersburg, Florida, and I now reside in Knoxville, Tennessee. Since I was a child, I loved making 2D art so much that I attended a magnet program for fine arts; however, I later decided to channel my talents into the sciences. I am now a 3rd year physics graduate student at the University of Tennessee-Knoxville. Since entering graduate school, I seldom do 2D art, but I have been known to pick up a pencil or paintbrush from time to time. My other works include graphic design and 3D modeling.
Andy's Website
Hannah Crace
Hello, my name is Hannah Crace, I am a 2nd-year Japanese student, who also happens to love art. I'm so happy to submit my artwork for the Asian Fest. I've been drawing for 15 years and have always been inspired by Japanese culture and Japanese media since I was 12. I'm a marketing major and hope to stay creative in my field allowing me to expand opportunities and speak to many artists around the world.
Hannah's Twitter
Abhikhya Gudala
My name is Abhikhya Gudala, and this is my second time participating in the Knoxville Asian Festival design competition. The watercolor painting depicts the Buddha statue which is an Asian cultural cornerstone, and the vibrant shade of gingko leaves in fall represent hope and peace – there are touches of bright orange incorporated for Tennessee. I wish for the new year to bring both hope and peace to many, and that the revived annual Asian culture festival allows us to meet again after a long separation and celebrate our diversity together. I am a junior and president elect of the Farragut High School chapter of the National Art Honor Society as well as a Girl Scout Ambassador. I teach art classes and raise money through my artworks and instruction to donate to good causes. Enjoy this year's festivities!
Lily and Generoso Fierro
Lily and Generoso Fierro are comics creators based in Knoxville, Tennessee. Their debut comic, VESSEL, was published earlier this year and will be available in the Knox County Library catalog in the coming months. Their comics blend together science fiction with individual experiences from the Vietnamese diaspora. Though professionally trained as a scientist at MIT, Lily studied fashion illustration and millinery after university. Generoso first honed his skills as an illustrator while majoring in Visual Arts at The Philadelphia High School for Creative and Performing Arts, where he studied under acclaimed artist Phil Sumpter. Generoso has been a painter and illustrator since the 1980s.
Lily and Generoso's Website
Yvonne Hosey
I am an artist who has resided in East Tn for the last 30 years. I have previously shown at the Emporium, the Mayor's Show and the Fountain City Arts Center. I love to travel and one of the thrills of my life was going to China for two weeks in 2014. I still hope to go to Japan. I work in watercolors, acrylic, glasspaint and scratchboard.
Yvonne's Website
Stephanie Bias
Hello! My name is Stephanie Bias, and I am an alumni of the Japanese program at the University of Tennessee, Knoxville. I spent a semester at Waseda University, and fell in love with Japan's culture. I want to help others experience foreign cultures to make the world a more open and peaceful place!
Stephanie's Website
Isaac Wang
My name is Isaac Wang. I am seven years old. I go to Farragut Primary School. I started to draw at three. I like drawing and reading. Sometimes I sit and wonder about stuff I don't know. Like what thy world was like a hundred years ago. Did giant spiders rule the earth? Were deserts filled with shows? I wish they built a time machine and they picked me to go to check out what the world was like a hundred years ago.
Tessa Grosholz
My name is Tessa, photography and art is my passion. I've been painting with acrylics my whole life and was recently blessed with an iPad Pro to create my art digitally which opened so many more opportunities. I was able to donate my artwork to a lost dog search "Bring Bear Home" in Gatlinburg for posters and t-shirts to help the fundraiser and bring awareness. I also do custom pet portraits and i am currently working with an author doing illustrations for her book. This has inspired me to start my own business creating my artwork on t-shirts, hats, bags, stickers, and mugs. I love nature and that is what inspired me to do this artwork for the Knox Asian Festival poster contest. 🙂
Tessa's Instagram
Ruth de Delfin
I am a Venezuelan artist that is self-taught. My art is filled with vibrant and radiant colors that bring life to my art. I have more than 15 years painting over canvas, wood, cloth, plastic, etc. I am also specialized in textile sculptures with recycled material. Back in my country, I participated in many art expositions and festivals.
Ruth's Instagram
Young Song
My name is Young Song and I was born and raised in Seoul, South Korea. I have resided in Knoxville TN for more than 21 years and this is my second home town. My wife and I came and enjoyed the very first Knox Asian Festival in 2014. It was a small but there was a plenty of performances to watch. Also, I suggested my wife to join and participate the second year of Knox Asian Festival. And we joined and danced the one of native Taiwanese Amis tribe for a celebrating harvest. After that, the following year my wife and I volunteers for both Taiwanese Association and Asian Culture Center.
For the poster design, I used 9 animals from The Chinese Zodiac which represent for the 1st year (Horse – 2014), 2nd year (sheep – 2015), 3rd year (monkey – 2016), 4th year (rooster – 2017), 5th year (dog – 2018), 6th year (pig – 2019), 7th year (rat – 2020), 8th year (bull – 2021), and 9th year (tiger – 2022) the Knox Asian Festival. It's been already 9 years for the Asian Festival in Knoxville Tennessee. Even though, the last two years of pandemic caused and forced us to change our life style, however, we are still strong and will continue fighting against the virus like the courageous and brave tiger. Two identical tigers in the poster show their V sign which is "YAY" in a few countries in Asia and it means a happiness, joyful, or even victory. So, I wish everyone who plan to come for this event, we all have a fun and "YAY".
Lily Tun
My name is Lily Tun, and I'm a 7th grade student at Collierville Middle school. I currently work on 2D artwork and will expand into 3D animations in the near future. Additionally, I'm planning and looking into being a graphics animator and illustrator in designing and producing fantasy films.
Lily's Website
Rachel Barnes
Senior at UTK graduating May 2022 with a BA in Modern Foreign Language in World Business with French and Int'l Retail Merchandising and a minor in art history.
This photo was taken at the Shaolin Temple in China where I received a grant to travel for a service trip in 2017.
My experience with photography is 3 years of courses. It has been a hobby ever since.
Shalini Yerukala
My journey to USA: I am Shalini Yerukala, agriculture student, came from a rural village Nagaram, Hyderabad, South part of India. I was one of the 15 students from all over India, who got selected for the prestigious international fellowship – Indian Council of Agricultural Research (ICAR) for my Ph.D. at the University of Tennessee, Knoxville. Here I am from Entomology and Plant Pathology Department, UT working and continuing my research work to contribute my part to the agriculture community to save the world from food hunger.
I love painting and cultural art, my passion for art developed from my childhood, watching my sisters.
Debalina Ghosh
Debalina Ghosh originally from India has been a painter for over 20 years now. Professionally a researcher, she is also a freelance illustrator in Knoxville, TN. She loves webbing her imaginations with splurges of color appreciating her gifted talent and honed skills in both traditional and digital art.
Debalina's Instagram
Alan Tan
My name is Alan Tan, and I am a junior attending Farragut High School. Being born from a Chinese family, my culture has always played a quintessential role in my upbringing. I am actively involved in various cultural organizations and traditional Asian festivals to celebrate my heritage. I am also fascinated by digital art and illustration, and I believe this poster contest is the perfect opportunity for me to express my passion for Asian culture and graphic design. I have experience operating a variety of professional digital art and 3D modeling software, including Affinity Designer, Adobe Fresco, Procreate, Blender, and Cinema 4D. I designed this poster using a combination of Adobe Fresco and Google Slides. While brainstorming ideas for my poster, I stumbled upon images of picturesque oriental sunsets and was inspired to combine that with a Japanese Torii Gate to create my final design.