Kumi Alderman
Executive Director
Kumi Alderman worked as a Tour- Conductor based in Tokyo, Japan. She took many Japanese groups to all over the World. Kumi really enjoyed learning diffrent arts and cultures through this job. Kumi realized that people are same even they have different skin color and cultures.  Kumi has discovered a passion to educate and share Asian culture through organizing the Asian Festival and other educational events. She believes the festival and events inspires the public, especially younger generations, to learn about and appreciate the richness of traditional Asian arts and culture. She believes mutual understanding is the base of World peace. Kumi has a big DREAM to create Asian Culture Center in Knoxville which provide the out-reach program for K-12 schools and Universities. On November 20th, Consul-General Kobayashi presented the Certificate of Commendation to Ms. Kumi Alderman, Executive Director of the Asian Culture Center of TN, in recognition of her distinguished service in contributing to the deepening of mutual understanding and friendship between Japan and Knoxville through the Asian Festivals and various cultural activities.
Samuel K. Lee
Advisor
Samuel K. Lee is the Chief Deputy at the Knox County District Attorney General's Office. He has called Knox County home since 1988 and is proud to serve our community. Sam believes that we need to be tough on crime and also compassionate toward victims and the mentally disabled. He actively supports the efforts of the Family Justice Center, the Sexual Assault Crisis Center, the YWCA, and is grateful to serve with our local law enforcement agencies.
Dr. Rachel Rui
Director of Marketing and Communications
Dr. Rachel Rui is a communication and international affairs expert who is now serving as the assistant to Chancellor of the University of Tennessee, Knoxville. Rachel supports the Chancellor in his day-to-day operations including strategic planning, project management, communication management, producing briefings, reports, and presentations, managing constituent's relationships, meeting planning and scheduling prioritization. Rachel is a proud two-time UT alumna. She obtained her Master's degree in Communication and Information in 2009 and her Ph.D. degree in the same area in 2014, with expertise in areas of social media and cross-cultural communication. Rachel is passionate about culture and art. She is a member of Young Professionals of Knoxville, and has served on the board of A1LabArts, participated in Knox Asian Festival and hosted Chinese New Year Gala for 10 years.
Dr. Javiette Samuel
Advisor
Director
The University of Tennessee, Knoxville
Office of Research & Engagement
Office of Community Engagement and Outreach
Leroy Kautz
Board Member
Leroy Kautz, a Sifu (Kung Fu teacher) under Great Grand Master CHAN PUI
After studying various styles of Martial Arts since the early 1970's, Leroy was introduced to the WAH LUM system in 1987, training nearly five years as a professional student in Tampa, FL. He then continued his training under the strict guidance of Grand Master CHAN PUI at the Wah Lum Temple in Orlando, FL.
Leroy was granted the opportunity, privilege and honor to open his own school and propagate this system and in August of 1994 Leroy began establishing the Tennessee based Wah Lum School in Knoxville.
Mahagi LaCure
Japanese Leader
Ms. LaCure has been teaching Japanese at the University of Tennessee for more than 20 years. She also works with students as advisor for the university's Japan Club. Before becoming a teacher she worked as a tapestry weaver, selling her works through galleries. She is proud to be part of the Asian Festival in promoting and celebrating cultural diversity in Knoxville. When she has free time, she enjoys coordinating and wearing kimono and playing the shamisen, a Japanese three-string banjo.
Jula Connatser
Thailand Leader
Jula Connatser is a leader of One Community Services, Inc. Her company is a certified minority and women own business enterprise in Tennessee (MWBE).
Living outside of Thailand is keeping us away from our cultural activities with friends and families. The Knox Asian Festival brought Asian people in town together. Now we have opportunity to bring back our fun cultural environment. At least once a year we can wear traditional outfits, sing, dance, and share our cultural wisdom at the festival with everyone in Knoxville community.
Ruth Utami
Volunteer Coordinator 
Ruth Dray, was born and raised in Jakarta, Indonesia. Ruth earned her Bachelor of Economics from Padjadjaran University, Indonesia before obtaining her Masters of Business Administration in Finance from Lincoln Memorial University. Ruth currently works for Hearthside Bank as Loan Officer Assistant/ Loan Administrative Assistant in Knoxville TN.
Living in a developing country with large economic gap helpedRuth understand the importance of compassion. She is very passionate about giving back to the community. She joined multiple volunteer efforts in Indonesia including the Salvation Army Indonesia. Since her arrival to the United States, she continues her charity work whenever possible. Most recently, she focuses on charity events sponsored by Volunteer East Tennessee. She is also a member of the Middlesboro Ladies Golf Association.
Ruth enjoys traveling. Through travel, she learns about the manydifferent things life can offer. Travel lets her experience different food, people, languages, race, cultures, and ways of living in different places. The most important thing she has learned is that compassion brings peace, harmony, and unity through diversity, which is the Mission of the Knoxville Asian Festival.
Mrs. Silavong
Board Member
Hailing from Ipoh, Malaysia, Mrs. Silavong immigrated to the United States in 1999. With her, she brought extensive knowledge of Malaysian and Chinese cookery. In 2007, she acquired ownership of the Plum Tree Chinese Restaurant, and in 2013, she branched out and opened Thai'an, located in the food court of West Town Mall.
Yuika Yamada
Volunteer Coordinator 
Yuika is from the Nagoya area in Japan. She graduated from Ritsumeikan Asia Pacific University in 2006 and moved to the United States in 2017. She graduated High school in Melbourne, Australia. She also lived in Ho Chi Minh City in Vietnam in 2004 for Vietnamese study. For her career, she also lived in Hong Kong,  Shenzhen China, Tokyo Japan, Chicago IL, Knoxville TN, and Atlanta GA. She adopted cosmopolitan thinking. She hopes her knowledge/background supports expounding the Knox Asian Festival and community to understand Asian cultures.
Ling Hidalgo-Catuncan
Philippines Leader
Ling Hidalgo-Catuncan is a licensed Physical Therapist with 24+ years of experience & is currently working at Shannondale Retirement and Assisted Living Centers. Originally from Navotas, Metro Manila & migrated to Knoxville, TN in 1994. Affiliated with Filipino American Christian Community of East, TN (FACCET) whose mission is to promote charity through service, time, talent and assist in realizing spiritual potential in our community. Ling is also an active member of Philippine American Association of East TN (PAAET) & assists with Fil-Am activities supporting the community. Enjoys dancing, singing, hosting and playing the guitar. Married to Paul Catuncan, also a physical therapist, with two smart kids, JP & Jos
Gina Wilson
Knoxville Area Korean Association President
My name is Gina Wilson I was born in South Korea. Graduated Young San Technical High School 1983 Worked in Samsung Semiconductor Came to USA in 80thWorked in at&t technician and manager. Retired from at&t as a Engineer 2014
I am amazed to see sight of beautiful Smokey area everyday all-around Knoxville Area. It is healing itself just be able to have chance to be in it.
I started to involve with Knoxville Area Korean Association 2019. I believe as a Korean American it is my obligation to volunteer for the communities.
First time I was involved volunteering was at the ALS Clinic in Emory Clinic and stay with them for Almost 10years. I realized there are so many of us needs someone to show them we care of them and love them to find comfort that will be a positive motivation in the everyday lives.
I am proud to be in United States that embrace different cultures and race. There are so many things we can learn and share with every and each one of us because we all are from different cultures and country and has unique individuality. And doing so we will understand and accept our unique characters and build a strong connection among all of us in our communities.
I wish we will continue to construct a positive relationship over the years to come in our great smoky area communities.
Michael Smith
Chinese Leader
Michael Smith has produced the East Tennessee Chinese New Year Festival for the past 7
years. Held each February on the UTK campus, this event gives the audience the experience
of new year celebrations in China. Michael is also the coach of the East Tennessee Wushu
Team and East Tennessee Tai Chi team, has won 9 gold medals in martial arts competitions
in China, and has been teaching Chinese martial arts to kids and adults in Knoxville for 12
years. For more information, visit him at the knoxvillechineseculture booth at our Festival!
Dave Alderman
Board Member
Dave Alderman works as a lead auditor at UL DQS Inc. He participated in founding Asian Culture Center of Tennessee (ACCTN) and assisted in organizing the Knoxville Asian Festival. Dave frequently travels to Asia to support ACCTN's mission. Dave is an avid runner and competes in local and national marathons.
Katie Hutchinson
Music Producer
Katie Hutchinson is a native of Loudon, TN. She was graduated from the University of Tennessee, Knoxville, with a Master of Music degree in instrumental education. While earning her Master's degree, she worked for the University of Tennessee, Knoxville Symphony Orchestra and Knox County School System to develop an orchestra program with fifth-grade students in the Farragut and Cedar Bluff Intermediate Schools.
     After earning her degree, Katie taught orchestra and choir to seventh and eighth grade students at Maryville Middle School in Maryville, TN. She then taught orchestra to sixth, seventh and eighth grade students at West Valley Middle School in Knoxville, TN. She has presented seminars on "Being Prepared as a First Year Teacher," "Bows and Arrows:Managing Student Behavior in the Orchestral Rehearsal," and "How to Develop Tone and Intonation in the Middle School Orchestra" with Dr. David Royse from the University of Tennessee, Knoxville music faculty. She is dedicated to helping students learn all they can while learning  to appreciate the value of a well-rounded musical foundation.
     Katie was a rehearsal assistant for the Knoxville Symphony Youth Orchestra for 4 years before she was named the conductor of the Philharmonia for 11 years before moving to  Cookeville, TN.
    Once Katie moved back to the greater Knoxville area with her husband and three children, she became the Strings Director at Clayton-Bradley Academy in Maryville, TN. She is entering her 5th year in this position where she conducts approximately 100 strings students in grades 5 through 12 and general music classes for grades K-2. She continues challenging herself to become a stronger educator while sharing her love of music with her students.
John Ramos 
Security Advisor
John Ramos was born in the Philippines and has been a resident of Knoxville since he was three years old. Mr. Ramos holds dual citizenship in the US and the Philippines. In the Philippines, he and his family were the owners of Visual Logic USA which was a company that provided Metro Manila Billboard media advertising and various outdoor advertising platforms. He worked closely with major corporations like ABS-CBN Media Entertainment, GMA Media Entertainment, Asia Brewery, and Philippine Airlines.
One of Mr. Ramos's major achievements was assisting and producing advertising campaign media for Eddie Gil (loyalist and staff of former Philippine President Ferdinand Marcos), a Philippine Presidential candidate in the Philippine 2004 Election. He currently assists Hon. Senator Emmanuel (Manny) Pacquiao, former world boxing champion, with various charity fundraisers and sporting events in the Philippines.
Before Mr. Ramos's career in media and advertising. He worked for his late uncle Cesar Lucero, Jr., Department of Foreign Affairs, chief legal counselor for the office of the Manila Mayor in their security department. In Knoxville, he is currently a team leader volunteer for CERT, Community Emergency Response Team which is under FEMA, and the Knoxville Emergency Management Agency. John's new 2022 team will be trained and overseen by Don Sower, Tenneessee's State Disaster Volunteer Service Manager.
He is currently the 2022 President of the Philippine-American Association of East Tennessee (PAAET) and has been a Public Relations officer in past years. PAAET is the leading Philippine-American organization in East Tennessee accredited by the University of Tennessee Department of Education and the city of Knoxville.
PAAET can be found in the University of Tennessee's inclusion directory as one of East Tennessee's Community Organizations.
(https://inclusion.tennessee.edu/community-organizations)
https://www.facebook.com/PhilippineAmericanAssociationOfEastTennessee
Hana Akimoto
Community Outreach
Hello!! My name is Hana Akimoto. I have participated in Asian Festival, along with my mother and sister, throughout the last five years. I currently teach science at Bearden High School. I enjoy providing a safe, loving environment for my students so that they can grow into critically thinking, civic participants of their local and global community. My goal as a Youth Coordinator is to encourage young people to learn new cultures and share their experiences. In this way, they can help develop innovative ideas that lead to a thriving community.
Azsha White
emcee
Azsha White is a full time Voice Over Artist, Actress, and Event Host, living in Knoxville, TN. In 2014, Azsha helped co-found and emcee the Knoxville Asian Festival. She uses her professional and artistic skills to promote the event via interviews, speaking on television, radio, or live events. In addition, Azsha is a host for Amazon Live on a bi-monthly show for PetSafe.
Besides hosting and public speaking events, Azsha has been professionally trained in voice over acting. Her in-home studio provides top-of-the-line equipment for any client's recording needs. Currently, Azsha not only works with local Knoxville businesses, but with clients in over 14 countries. She specializes in Character/Animation, Commercial/Radio, Video Narration, and Phone Systems.
When Azsha is not in her studio working on recording projects, you can rest assured she is running around doing something else amazing. If spotted in the wild, you may catch her shooting a local/national television show or commercial. Depending on the season, you may even find her on stage for a cultural or other live event. But when she is not working, you can count on her being a crazy dog lady, and find her at one of Knoxville's many dog parks with her two pups.
A dynamic, motivated entertainer with diverse experiences spanning platforms from television and radio productions to voice-overs and event coordination, Azsha is a dedicated performer with a savvy business sense continuing to inspire audiences near and far.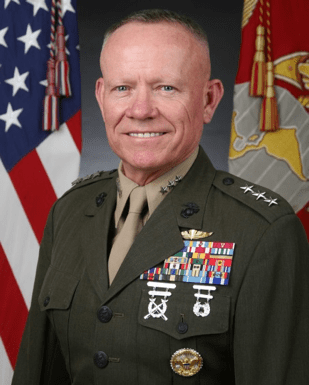 Lieutenant General Lawrence D. Nicholson
USMC, Retired
Volunteer Security Manager
Lieutenant General Nicholson was born in Toronto, Canada, and is a 1979 graduate of the Citadel in Charleston, South Carolina. He holds a MS degree from the U.S. Army Command and General Staff College at Fort Leavenworth, Kansas. From 1980-1982, Lieutenant General Nicholson served as a Platoon and Company Commander in 3d Battalion, 1st Marines at Camp Pendleton, California. From 1982-1985 he was assigned to Marine Corps Recruit Depot San Diego, where he served as a Series and Company Commander.
Following Amphibious Warfare School at Quantico, Virginia in 1986, Lieutenant General Nicholson served as a Platoon Commander at Officers Candidate School until joining 3/7 in the fall of 1986. He then served as a Rifle Company Commander for Lima 3/7 and subsequently Delta Company, 1st Battalion, 9th Marines until May of 1990. From June 1990 to July 1993, Lieutenant General Nicholson served as a Company Officer and Instructor at the United States Naval Academy in Annapolis, Maryland. Following completion of the US Army Command and General Staff College in 1994, he was assigned to the Middle East as a United Nations Observer for UNTSO Palestine. In 1995, he reported to Camp Lejeune, North Carolina as the Executive Officer of the Wolfpack, 2d Light Armored Reconnaissance Battalion.
In 1997, Lieutenant General Nicholson assumed the duties as the 2d Marine Division, G-3 Operations Officer until taking Command of the WARLORDS of 2d Battalion, 2d Marines in 1999. Following a deployment to the Balkans with the 26th Marine Expeditionary Unit, he was re-assigned in 2001, as the Executive Officer of the 2d Marine Regiment. Upon graduation of the NATO Defense College in Rome, Italy in 2002, he was assigned to NATO HQ in Brussels, Belgium where he served as the Ground Forces Planner for the U.S. Military Delegation to NATO. In July 2004, Lieutenant General Nicholson reported to the 1st Marine Division HQ at Camp Blue Diamond, Ramadi, Iraq, where he served as the Division G-3. In July of 2005, he assumed command of the 5th Marine Regiment and deployed with them to Fallujah, Iraq in 2006.
As a General Officer, he has served as the Deputy Commanding Generalfor Marine Corps Combat Development Command at Quantico; the Commanding General of the 2d Marine Expeditionary Brigade in Helmand Province Afghanistan; the Senior Military Assistant to the Deputy Secretary of Defense in Washington, DC; the Operations Officer for the ISAF Joint Command in Kabul, Afghanistan; the Commanding General of the legendary 1st Marine Division at Camp Pendleton, California; and the Commanding General of the III Marine Expeditionary Force in Japan and the Pacific region.
LtGen Nicholson now calls Knoxville Tennessee home, is active in local Veterans affairs organizations, serves on the advisory board for the Spirit of America, Still Serving Inc, and is a Distinguished Visiting Fellow for the Sasakawa Peace Foundation, and the Asia-Pacific Institutes' Military Statesman's Forum. He has been married to Deborah for 41 years and has 3 sons, 2 on Active-duty USMC, and 9 grandchildren that he and Debbie enjoys spoiling at every opportunity.
Dr. Kathie Shiba
Volunteer Coordinator
Dr. Kathie Shiba is Assistant Dean of Institutional Equity and Professor of Psychology at Maryville College. I moved to Tennessee in 1994 after graduating with my Ph.D. from the University of California, Riverside. As a Sansei whose parents, grandparents, and other relatives were incarcerated during WWII, I have been interested in understanding the impact of racism, especially across generations. I study the impact of microaggressions on college students' lives, focusing on racial, sexual, and gender microaggressions. In addition, my research examines student and institutional characteristics that promote positive outcomes such as resiliency, coping skills, and mediation. I appreciate the opportunity to volunteer at the Asian Festival each year and have been impressed with the tremendous growth over the years. It is exciting to see so many people who
are passionately learning about Asian cultures.
Ivy Zhang
Ivy Zhang is a rising senior from the Farragut High School Class of 2023. From volunteering as a teacher's assistant at Chinese language schools since middle school, participating in Asian-culture related activities at local universities, and performing traditional Chinese songs and hosting at local cultural events, to leading the Farragut High School Asian Culture Club, organizing community activities and fundraisers, and donating to the Knox Asian Festival, Ivy actively encourages the promotion of Asian cultures and diversity. She is grateful to serve as the co-emcee for the 9th Knox Asian Festival.
Alan Tan
Alan Tan, Class of 2023, is a rising senior and the Founder and President of Origami Club at Farragut High School. Being born and raised in a Chinese household, Asian culture has always played a quintessential role in his upbringing and self identity. In addition to being President of Origami Club, he is the 2022-2023 Vice President of Asian Culture Club. He helped organize various fundraisers and activities at his school to raise awareness and promote ethnic inclusiveness. Alan embraces cultural diversity and hopes to spread his passion and enthusiasm for Asian culture across his community. He is excited to serve as co-emcee for the upcoming 2022 Knox Asian Festival.
Yuriko Biles
Yuriko Biles is a senior at the University of Tennessee-Knoxville studying English & Non-profit Management. She participates in Model United Nations and is active as a senator within UT's Student Government Association. When not studying, she volunteers at Beardsley Farm and Bridge Refugee Services. She works with Americorps in the summers, and hopes to continue working with them after her graduation. Yuriko spends her free-time with her friends — whether it be hiking, shopping, or "studying" at local coffee shops. Yuriko is proud to be of Zainichi Korean descent, and cannot wait to share her heritage with Knoxville!
JD Wang
Dr. Wang obtained his Ph.D. in Mechanical Engineering from Nagoya University in Japan. Before he began his industrial career in North America, Dr. Wang conducted research in China, Japan, and America. Dr. Wang changed his career to the industrial sector when his family moved to Canada. He served in various positions as an engineering manager, purchasing manager, project manager, plant manager, and general manager-in-cost in a leading bearing manufacturer. Dr. Wang moved to Maryville in 2013 to serve as COO at Huskin Machinery Company and retired in 2022.
Heidi Zhu
After graduating with her Master's degree in Mechanical Engineering from Mie University Japan, Heidi worked for the Technology Center and Overseas Department of Rinnai Cooperation Japan. At Rinnai, Heidi played an essential role in conducting both technology and business between Rinnai Japan and other Asian Counties such as China, Thailand, Singapore, South Korea, Malaysia, Indonesia, etc. In 2013, Heidi moved to Maryville and met Ms. Kumi, the director of the Asian Culture Center of TN. Ms. Kumi's great cultural background and interest drove Heidi to start her volunteer job for the Knoxville Asian Festival. Heidi retired in 2021 from Huskin Machinery Company, which was a minority company owned by Heidi's family. Since then Heidi has been putting more effort to help the Asian Culture Center of TN. Heidi continues to work for "Keep Blount County Beautiful" as a volunteer, which is her beloved weekend job.